MP3 Audio Recorder Free
is an application to record sound from various sources. You can have a detail about its main features below. It is designed by Pistonsoft.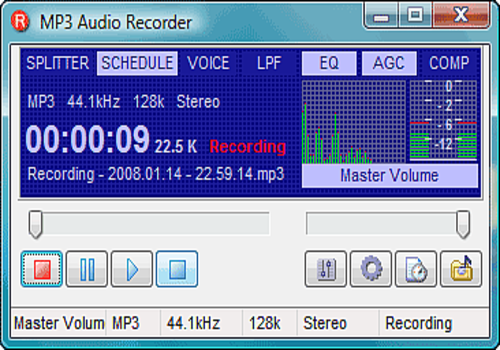 Key Features
Sound source: MP3 Audio Recorder Free can record any sound played on your computer system. The sound may come from a microphone, CD/DVD player, games, online radio and TV stations, Vinyl, LP and/or Cassette Tape Collection.
Customizable: with this tool, you can specify the bitrate, sampling rate and bit depth of your recording as well as specifying the compression method. MP3 Audio Recorder Free is also integrated with the LPF (Lowpass) filter and built-in parametric equalizer so that you can fine-tune your records for the highest quality.
Voice Activation System: this feature enables users to avoid pausing and playing the application all time. Indeed, thanks to this, users can get rid of pauses and silence by only recording when someone is talking.
System requirements
Operating Systems: Windows 95, Windows 98, Windows Me, Windows 2000, Windows XP
DirectX 8.0 or above
Pros
MP3 Audio Recorder Free offers an intuitive and graphical user interface.
It is practical and easy to use.
Cons
It is a shareware version that expires after 30 days of use.
See also
Knowledge communities.
Latest update on Thursday July 4, 2013 06:43:16 AM