Currently, we no longer need to be a computer science expert to detect and discover information about our computer. Indeed, this tool known as
WINFOKEYS
is capable of displaying all relevant information about a given computer.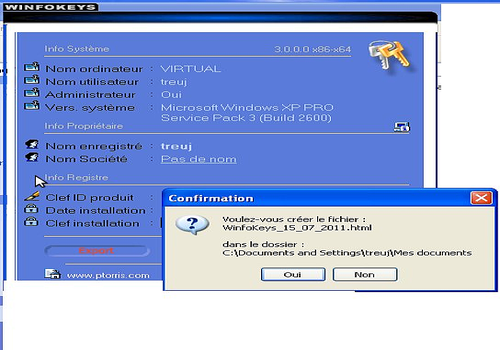 Key Features
Information: you can find out all about your machine with WINFOKEYS. Indeed, it can display on its interface, the name of the computer, the administrator rights as well as the name of the user. On your system, you can specify the current version, the name of the company that produced it.
Product: WINFOKEYS can display the product key, date of installation, the CD key that enables its installation. And to top it all, it includes an option that gives you the ability to create a WINFOKEYS file that contains all data.
Effective: WINFOKEYS is quite effective. Indeed, it is able to find the key to install an inactive system whatever it is disk or a partition. To go further, it can even find that of a remote system.
Portable: with WINFOKEYS, you can view information from any machine since you can take it wherever you go. It requires no installation and you can carry it in a USB stick or other devices.
System requirements
Operating Systems: Win 95, Win 98, Win 2000, Win XP, Win Vista, Win 7.
Disk space required: 530 KB.
Pros
WINFOKEYS is a freeware.
It offers help files packed with the software.
Cons
Nothing special to report.
See also
Knowledge communities.
Latest update on Thursday March 28, 2013 01:42:55 AM